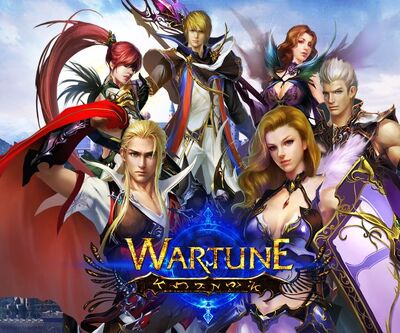 Welcome to the Wartune WikiEdit
Wartune is an epic hybrid turn-based RPG/strategy game. Featuring three unique classes, single and multiplayer dungeons, PvP arenas, competitive battlegrounds, thousand player boss battles, a robust guild system and even farming - Wartune combines some of your favorite online massively multiplayer game features from multiple game genres.

This page is compiled of guides and FAQ created by players to help newcomers.
The info that forms these guides are both written by players or
found online and is in no way a direct representation of Koramgames
 Highlights of the gameEdit
Kill monster bosses with hundreds of other players at once!
Battles, quests, farming(field), building towns.
The Double Skill system offers flexibility in selecting and using a variety of skills.
Collect magical stones to enchant your armors and weapons.
Categories
Edit
| | | |
| --- | --- | --- |
| |  Build Guides for the Classes | |
| Mounts and WingsEdit | | |
| ResourcesEdit | Campaigns Edit | |
Wartune contributors
Edit
Latest activity
Edit
Photos and videos are a great way to add visuals to your wiki. Find videos about your topic by exploring Wikia's Video Library.