Blacksmith
By opening the Blacksmith interface, you can do many things such as
Enchanting, Socketing, Synthesizing, Refinement and Recycle
Enchanting
Enchanting requires a certain amount of gold but the success rate after every successful enchantment will decrease by 10%. With each successful enchantment, the gear's enchantment level will increase by 1 point. If you fail the enchantment the level will remain the same but you will lose the gold spent on the attempt.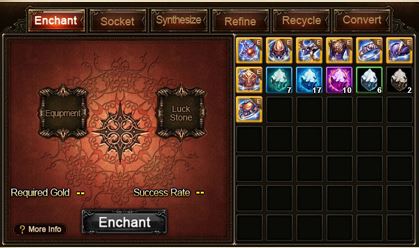 Notes:
Luck stones may be used to increase the success rate.
Enchanting causes unbound items to become bound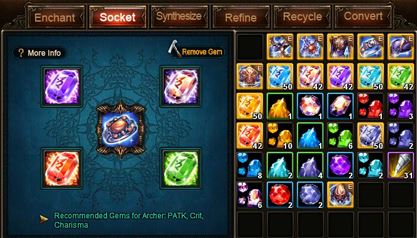 Socket
Stats can be boosted by socketing various gems into equipments.
Small quantites of gold can be used to remove and re-use socketed gems. Gems can be obtained from daily check-in, the Forgotten Catacombs and Jewel Hunt or purchased in the shop

Notes:
Socketing success rate is 100%
Socketing will cause unbound items to become bound
Socketing Rod is needed to open up additional slot for gem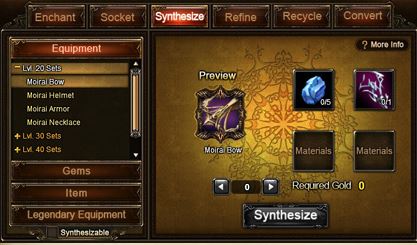 Synthesize
With this feature you may synthesize materials into pieces of armor or weapon or even lower quality gems into higher grades. A small amount of gold is required to synthesize. New formulas are available every 5 levels. Formulas can be obtained from specified quest or purchased from the shop
Notes:  Item' systhesis success rate is 100% '
All systhesized items  are bound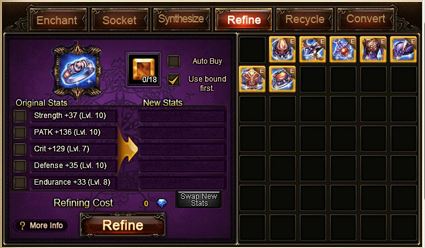 Refine
You can use refinement to shuffle and improve your gear's attributes. Select an item and click refine to generate new stats. Once you are satisfied click swap and the new stats will be applied.
Notes:
Refinement consumes a certain amount of refinement crystals. Higher level and quality equipment requires more refinement crystals
Refinement crystals can be obtained through recycling green or higher equipment.
Unbound equipment requires unbound refinement crystals
You can lock stats you wish to retain with refinement lock BEFORE clicking the refine button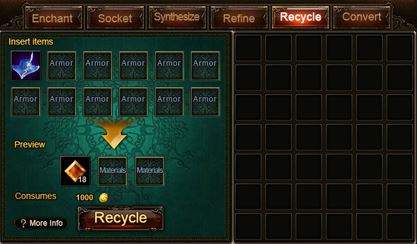 Recycle
Recycle items to obtain refinement crystals. these are required to refine weapon and armor.The crystals generated are dependant on the quality of the recycled item
   Notes:
Recycling unbound equipment produces unbound crystals
White and certain equipment cannot be recycled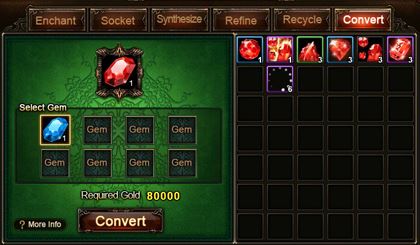 Convert
With the gem converter you are able to convert all unneeded gems into any type of gems desired. A consider amount of gold is required for each conversion depending on the gem level
Notes:
Gem conversion rate is 100%
All converted gems are bound